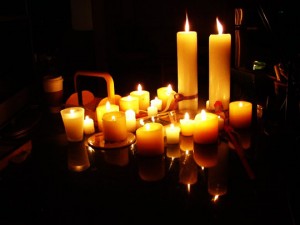 It's the time of year when Texas residents buckle down and prepare for rain, severe thunderstorms, crazy strong winds, lightening, thunder, and flying debris.  You already know to unplug your computer, television and other electronic devices when severe weather strikes, but how do you protect your HVAC System?  Severe weather is responsible for the destruction of thousands of HVAC units each year.  In crazy Texas weather, there are two ways to protect your air conditioning system: Time Delay Mechanisms and Hail Guards.
As we work with homeowners, property owners and businesses on a daily basis we believe the best protection is preventative in nature.  We'll talk about Hail Guards in another blog post, but today, we are going to focus on protecting the electrical components of your condensing unit.
Protection from Power Outages
Richard says nothing will protect your air conditioner from a power surge that hits within yards of your property.  However, you CAN protect your unit from power outages.
When the power is going off and on, a time delay allows your unit the opportunity for the pressure in your system to equalize.  You see, your unit is running on two different pressures, when the unit is pumping it has a much higher pressure called the liquid line and a much lower pressure called the suction line.  When the power goes out, the unit turns off and the pump stops.  When the power comes back on again it tries to start in midstream and will end up jamming.  Your unit will work fine many times, but that one time out of a hundred, your unit will break down completely.
So, Do I have a Time Delay?
What kind of thermostat do you have?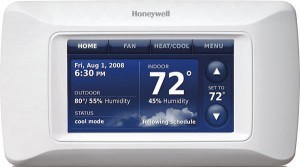 A lot of digital thermostats have a time delay in the circuitry of the thermostat which automatically postpones the unit starting 5 minutes in the event of a power outage.  The delay allows time for the unit to rest, lets the pressure equalize and then starts the unit again.
Most of your programmable thermostats have delays encoded as well.
Old mercury switch thermostats do not have a time delay built in.  You would need to have a time delay installed in your condenser by your service technician.
How old is your unit?
Many newer HVAC units come with a time delay already wired in.  Now that numerous manufacturer warranties expand to 10 years, the companies realize it is more cost effective to install a delay switch when the unit is being built versus pay to replace the entire unit a little later down the road.
Still not sure if your system has a time delay?
To verify if you have a delay in your thermostat or already in your unit:

Turn your thermostat to cool and let it run for a few minutes;
Then, turn your thermostat off; wait a minute or two;
Next, turn the thermostat back on;
If you have a digital thermostat, does your thermostat show "Wait" or does the "Cool" signal blink?  If so, you have a delay in your thermostat.
If not, walk outside to see if your condenser is coming back on;
If your condenser comes back on immediately, you do not have a delay.
If your condenser doesn't come back on immediately, you do have a delay.
What Do I Do Now?
If you have discovered you do not have a time delay mechanism in your air conditioning system, talk to your trusted HVAC technician.  They can get one installed on your unit during your next routine maintenance check-up.
If you have an old mercury thermostat and have been thinking about upgrading to a digital thermostat, there are a lot of options out there and your technician can help you choose the right one for your lifestyle WITH a time delay already programmed in.
If you have a time delay switch already installed, great!  You are ahead of the curve by proactively protecting your air conditioning system.  The next step is to make sure your unit is checked twice a year for safety and efficient operations.  How long would you go without getting an oil change in your car?  The HVAC system in your home or office is a machine that needs regular maintenance to keep it operating safely, efficiently and long-term.
Have other questions?  Give us a call at (972) 679-4072 or shoot us an email: info@coldairac.com.  Also, "Like" us on Facebook to interact with us daily!
Coldair Air Conditioning & Heating works to be your trusted service professional today, and the rest of your life.  We offer fair prices, trustworthy technicians and valuable service.
To learn more about our company visit our website at
www.ColdairAC.com
.  To contact our offices, please call 972-679-4072 or email us at
info@coldairac.com
.
Like us? Then "Like" us on
Facebook
!  Follow us on
Twitter
.  Connect with us on
LinkedIn
.  Circle us on
Google+
.  Watch us on
YouTube
.